The Research Center for Social Sciences and Education (RCSSED) researchers led by Asst. Prof. Gina Lontoc, PhD and her co-researchers, Prof. Camilla Vizconde, PhD and Prof. Belinda de Castro, PhD

  have received research grants under  the Global Challenges Research Funds (GCRF) and the Global Research Translation Awards (GRTA).  Both projects are led by the UNESCO Chair team of the University of East Anglia, United Kingdom in collaboration with its partners in Malawi (University of Malawi), Nepal (CERID), Ethiopia (Bahir Dar University), and the Philippines (University of Santo Tomas), as well as UNESCO Paris and UIL Hamburg, who will host international dissemination events. The GCRF project started on September 1, 2019 and will run for ten (10) months while the GRTA project started a month later and will run for eighteen (18) months.
   These projects build directly on the UEA QR GCRF-funded UNESCO Chair International Workshop program held in Ethiopia (Bahir Dar, May 2019),
where researchers and practitioners have identified the neglect of adult literacy within the development policy framework at the national and international level as a major issue that affects financially incapable women in particular. A concept of family literacy built on indigenous learning has emerged and will be developed in relation to policy formulation and implementation within each partner country.
   With these successful grant applications, the UEA UNESCO Chair and its partner institutions are putting forward  a new concept of family literacy based on 'indigenous inter-generational learning,' on the premise that about less than a billion adults – the majority of these are women – are reported to be functionally illiterate. It has often been the case that in terms of policy formulation and implementation- things are often wanting in matters of adult literacy, and not a priority of government policy-makers, and executive leaders.
   Experts have mentioned that adult literacy and learning are considered  as the 'tie that binds' the whole gamut of the SDGs. The project's goal is to show how a community-based inter-generational approach to family literacy and learning can contribute to the achievement of selected SDGs, when built on local and/or indigenous knowledge and practice. Family literacy and learning is captioned as a 'transformative and innovative tool' that works across generations, between and among institutions and through interdisciplinary collaboration." As a sector-wide approach, family learning brings together the different components of early childhood and school education, youth and adult learning.
   Through the conduct of  action-oriented research with different groups from each country, the projects will developed an intensive grass-root approach to family literacy and learning, as deeply rooted in people's everyday activities. Interactive stakeholder workshops will be held in each country to share findings, interrogate current adult literacy practices and integrate this new concept of family literacy and learning into national and international policy. The pertinent findings of the research projects in each of the country in focus will be disseminated across the world by the 700+ UNESCO chairs.
The GCRF Project: Interactive Stakeholders' Workshops, Documentary Analysis and Ethnographic Studies
   In collaboration with the UEA UNESCO Chair partner universities in Ethiopia, Nepal, Malawi and the Philippines, comparative ethnographic studies will be conducted on indigenous approaches to inter-generational learning and knowledge creation, alongside documentary analysis of existing family literacy programs in these countries. The project includes research-policy interaction and dissemination activities to engage international, national and local stakeholders. This also involves capacity building in relation to the research teams in each partner university where early career researchers and postgraduate students will be involved.
   One of the activities supported by GCRF is the Postgraduate Forum on Adult Education 2019 which will be held at the University of Santo Tomas on November 9, 2019. This is in response to challenges posed by communities to provide access to education, whether formal or non-formal, to all members of the society. Through the partnership between the Graduate School of the University of Santo Tomas and Research Center for Social Sciences and Education (RCSSED), this forum, with the theme, "Adult Literacy Programs and Family-Centered Practices in Community Building: Revisiting  the Roles of Philippine Higher Education" aims to raise debates on the changing landscapes of adult literacy, the drivers of change and its challenges. It also highlights how adult literacy programs have become instrumental in supporting families and building communities .
   There will be presentations from various Higher Education Institutions which tackle  the status of adult literacy programs implemented in their institutions alongside the discussion of challenges, issues and future directions for adult education and intergenerational learning. Through researches that are to be simultaneously conducted in Malawi, Ethiopia, Nepal and the Philippines, these GCRF funded activities will contribute to national and international understanding about how family literacy policy and programs can contribute to the 2030 Sustainable Development Agenda, particularly in relation to gender equality, health, agriculture and education.
   GCRF funded activities address educational and health inequalities in the countries and research sites, as well as other contexts. It is  perceived that one major contribution of GCRF projects is to bring policy makers' and educators' attention to the disparity between current mainstream approaches to adult/family literacy instruction and the ways in which adults and children learn in everyday life – and the importance of recognizing that such educational practice can negatively affect sustainable development.
The GRTA Project: e-thnography: Exploring the potentials of family literacy and  virtual ethnography in achieving food security through  sustainable organic agricultural practices
   The GRTA project will be based on action-oriented research on family literacy and indigenous learning in diverse contexts in the four participating countries. Stakeholder workshops at the local and national level will share what 'family and inter-generational learning' means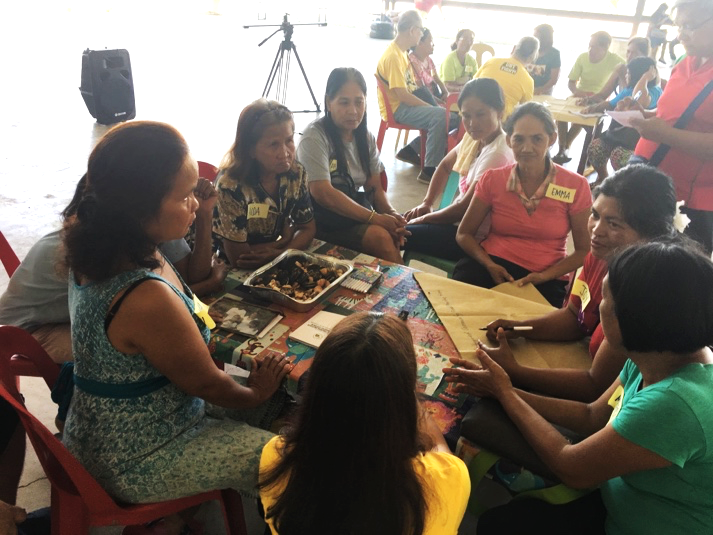 to these communities, along with the analysis of existing adult literacy policy programs. Practical guidelines for family literacy will be co-developed, which is hoped to be adapted by governments and NGO programs. Comparative analysis conducted across the four countries and outputs from the country-level workshops will form the basis of the research seminar in UIL, leading to new guidelines for family literacy. The partner university team in each country will also  produce a country-specific report for dissemination through UNESCO offices.
   Under the GRTA scheme, UST RCSSED team proposed a research project which aims to study  how family literacy can build on indigenous learning in order to contribute to the 2030 Sustainable Development Agenda, particularly the gender equality (SDG5), health and nutrition (SDG3), agriculture (SDG2) and education (SDG4) goals. Using mobile technology, this study explores the potentials of intergenerational learning and virtual ethnography in promoting sustainable organic agriculture and food security in poor rural communities.
   This study involves students from Don Bosco Training Center (DBTC) who are enrolled in Organic Agriculture Production NC II and members of women's organizations together with their sons and daughters,  who are interested in engaging in organic agriculture and who are part of the Pantawid and Pamilyang Pilipino Program (4Ps) facilitated by the Department of Social Welfare and Development (DSWD)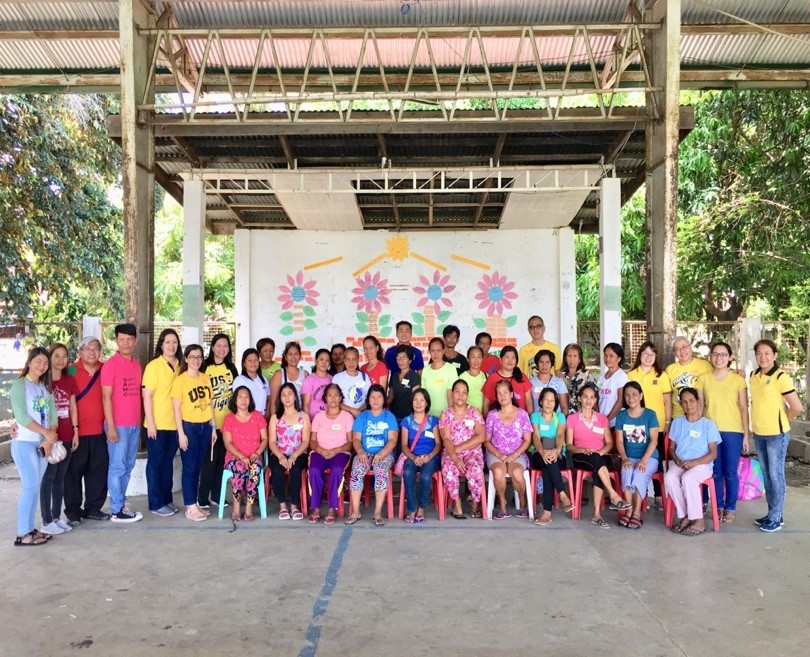 in Pinili, San Jose, Nueva Ecija. Through this collaboration, youth will be seen as drivers of change by participating actively in addressing pressing community issues that impact their communities.
  This study uses family literacy and learning as a transformative and innovative approach that works across generations, between institutions and through interdisciplinary collaboration. Furthermore, it seeks to understand more about how adults, children and young people learn and teach each other skills and knowledge in the community. This might be agricultural skills, like learning to herd animals, or new skills like using a mobile phone.
   The project is linked to one of  the basic premises of the policy framework for food security of FAO (Food and Agriculture Organization) of the United Nations which states that 'in order for people to feed themselves according to their needs, they must possess the capabilities to produce their own food or they should obtain sufficient income to buy their food (FAO, 2017).' This is related to one of the top priorities of the 2030 Agenda which considers agricultural initiatives and rural development as powerful tools to end poverty and hunger. This would  not only mean  a boost in crop yield but also an increase in economic opportunities in the agricultural sector.
   Moreover, this project entails interdisciplinary research collaborations among colleges/faculties of the University of Santo Tomas. Colegio de San Juan de Letran, another Dominican institution, and Don Bosco Training Center, a technical vocational school, will also be involved. Lastly, local government units such as barangays, and government agencies (Department of Social Welfare and Development and the Department of Agriculture) will take part in this study.
   One important contribution of UST RCSSED team to this GRTA project is the creation of web/mobile application. This app is for parents and youth to document their experiences, to access resources, to upload e-manuals, and to use this tool for project monitoring and dissemination with the teams in Ethiopia, Malawi, Nepal, and UK.